Dee Zee Steel Transfer Tank 91747SB

Dee Zee DZ91747SB L-Shape Transfer Tank – Black Steel
Why deal with portable liquid containers which slosh around, tip over, and spill to create a large mess? This Black Powder Coated Steel Fuel Transfer Tank by Dee Zee provides easy filling, a stable center of gravity, and easy out.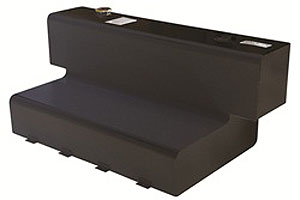 This Dee Zee liquid transfer tank is constructed from 14 gauge steel, protected by NRT (No Rust Technology) rust inhibitor powder coat finish. Radius curve design eliminates key weld pressure points, and the tank feature three stability baffles, lockable cap, .375″ drainage plug, and venting coupler. With most of these liquid transfer tanks, it is unsafe (and illegal) to transport flammable liquids in.
L-shape liquid transfer tank.
Made in the USA.
Specialty Series transfer tank.
Heavy-duty 14-gauge black steel.
NRT Powder Coat is specially designed to increase corrosion protection.
Radius curve eliminates weld pressure points.
Includes cap and coupler for venting.
Three stability baffles and drain plug.
Fluid capacity: 84-gallons.
Measures: 60″ x 30″ x 24″.
Not Certified For Transporting Fuel.