DeeZee: Quality Truck Accessories
Tool Boxes, Tool Chests, Transfer Tanks, and More

DeeZee are known as the people who know quality truck accessories. DeeZee has the experience, designs, and features to get the job done. Key features in DeeZee's  models will keep your work schedule on track.
L Shape transfer tank design leaves room to mount a crossover tool box for storage or a combo fuel tank, which comes with a convertible Dee Zee tool box.
Internal baffles create compartments inside the tank to control the movement of liquid, which reduces pressure on outer welds.
Dee Zee utilizes robotic welding arms for precision full seems welds with superior consistency.
While anyone can find heavy gauge materials, Dee Zee gains the advantage with the powder coat protection. Dee Zee provides No Rust Technology (NRT™) powder coat protection on all steel Transfer Tanks. This specially developed chemical additive inhibits corrosion and weathering.
Radius curve designs eliminate key welded pressure points with a single sheet.
Getting fuel to the job site has never been easier.  Find out for yourself with a Dee Zee transfer tank!
DeeZee Fuel Transfer Tanks
Some of the many great DeeZee products you can find at Stripes and More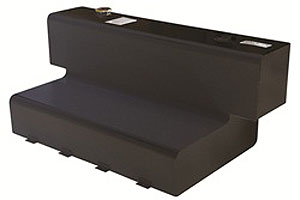 Why deal with portable liquid containers which slosh around, tip over, and spill to create a large mess when this Black Powder Coated Steel Fuel Transfer Tank by Dee Zee provides easy filling, a stable center of gravity, and easy out.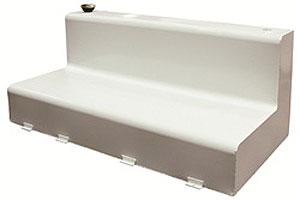 The 91751S Steel Transfer Tank mounts to your truck bed to provide safer transport of non-flammable fuels and liquids. It's easy-pour and easy-drain system will make you glad to leave heavy, portable liquid containers that tip over and spill at home.
"Dee Zee's products sustain the worker, the weekender and everything in between. Our extensive product lines are built with you in mind. We recognize your need for durable, functional, and stylish products to keep up with your hectic pace. Dee Zee's classic styles are intertwined with the newest modern looks to explicitly satisfy your needs.
Dee Zee has been a staple brand in the truck accessory market since 1977. We are trusted to support the biggest names in the auto industry as their Original Equipment Manufacturer (OEM) on a variety of products. If you take a closer look, you may see a Dee Zee finished product underneath a Chrysler, Ford, GM, Honda, Nissan, Subaru, or Toyota logo. Our proven manufacturing techniques have carried over to our consumer market accessories you see flooding websites, catalogs and your local retail stores.
The fertile ground in America's Heartland gives way to five buildings in Central Iowa comprised of almost 700,000 square feet dedicated to manufacturing, packaging, warehousing and shipping. In-house engineers create Dee Zee's storied products with the latest design software to produce custom fit applications for your vehicle. The majority of Dee Zee products are made and packaged in Des Moines, IA with 90% of supplied parts coming from American vendors.
Dee Zee is always promoting a cleaner tomorrow by practicing green manufacturing techniques. Our eco-friendly manufacturing processes not only save the end consumer money by using lean practices, but we do our part to protect the planet. Dee Zee's reduced carbon footprint is achieved through massive recycling efforts, material reductions and efficient manufacturing processes. We are proud to work with vendors who are Sustainable Forestry Initiative (SFI) program participants for paper and cardboard products during packaging.
If you need more reassurance, maybe one of the best warranty programs in the industry will satisfy you. With a limited-lifetime warranty on the majority of Dee Zee products, you can be guaranteed our brand will withstand the ultimate test of time.
LIFE isn't just a 4-letter word. Dee Zee can personalize your vehicle to fit the needs of your lifestyle. Take the hassle out of your everyday routines by giving yourself an extra step into your vehicle or finding the perfect lockable storage box. We are here to accommodate the needs of your vehicle that affect your LIFE."