Top-notch Truck Accessories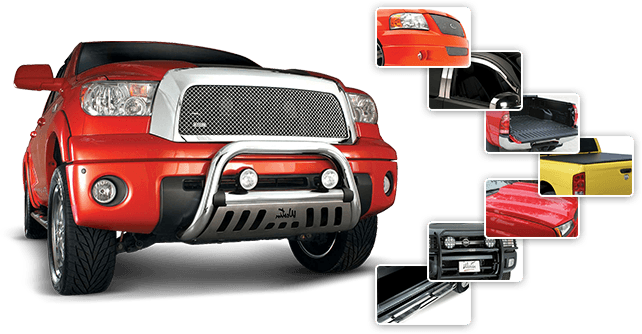 Stripes and More has a great selection of accessories for your utility and work trucks. Among these is a wide variety of the top performing brands in the industry. Whether you need lift gates, cargo holds, running boards, body panels, truck and van interiors, SUV floors, nerf bars, fender wells, fifth wheel hitches, or trailer interiors, you can find what you need at the best price.
Browse our inventory and customize your truck!
Truck Accessories
Since 1986, Ranch Hand has become the #1 source for truck accessories. With more than 230 employees processing over 65,000 lbs of steel every day, it's easy to see why the state-of-the-art equipment and production processes in our 320,000 square foot facilities enable us to build the highest quality truck accessories on the market, all proudly made in the USA.
Founded in 1952, the Reese brand has become a household name in the heavy-duty towing industry. With proven designs that exceed the industry standards, Reese has become the brand of choice when performance is the expectation.
With 15 years of experience in design and manufacturing Cattleman has built a reputation for providing dependable heavy duty name brand products for your truck.
Big Tex Grille Guards are made to custom fit full-sized Chevrolet, GMC, Dodge and Ford trucks and SUVs. All feature easy frame-mounted no-drill installation, heavy-duty rubber pads, optional headlight guards, optional black diamond step and you retain your tow hooks on all applications.
Big Country products are produced with the highest of standards. We monitor, document, and inspect every part and every process, and as a result, have earned the prestigious ISO9001 certification that is your assurance of consistent quality and commitment to excellence.
Dee Zee has been a staple brand in the truck accessory market since 1977.  They are trusted to support the biggest names in the auto industry as their Original Equipment Manufacturer (OEM) on a variety of products. Their proven manufacturing techniques have carried over to our consumer market accessories you see flooding websites, catalogs, and your local retail stores.
When you're up in the bush and you knock down a good bull on the second day, but the plane isn't due for two more. Yukon is the answer. Every detail is there to give you the longest-lasting ice you can get, and help keep your trip on track. With a comprehensive assortment of Yukon® Cold Lockers ranging from 50 – 250 quarts, and growing, there is a Yukon perfect for every serious outdoorsman.
VORTEX is a company backed by over 50 years in the coating industry and is known as the ONLY Truly Portable Spray On Liner System In The Industry. VORTEX is a premium spray-on liner material that has an economical price and has been designed with three main points in mind: ease of operation, keeping your costs low, and keeping your profits high.
For over 38 years, Westin has provided world-class products to the automotive aftermarket industry. Featuring 7 brands, 11 product categories, and over 100 different products; Westin is the 1 Trusted Source for all your truck, SUV, commercial fleet, towing, Jeep® products.
Since 1970, KC HiLiTES has been designing and manufacturing auxiliary performance lighting for off-road vehicles. As the original manufacturer of off road lighting, beginning with the Daylighter®, they have a rock solid reputation for quality and performance.
N-FAB manufactures quality tubular accessories for most Truck and SUV makes and models, foreign and domestic.
RKI truck boxes go to work everyday redefining durability. They are ready for use at work or after hours carrying tools and toys safely and securely.
UWS is a division of Thule Inc. Based in Perry FL, UWS designs and manufactures products for professional tradesmen and truck enthusiasts looking for a full range of tough and reliable storage carriers and truck accessories that are made in the USA.
Draw Tite is the largest, oldest, and most professional company selling towing products on the Internet. To date, they have shipped over 200,000 hitches, hitch accessories, cargo carriers, bike racks and other towing products to over 200,000 customers.
Strong, consistent, and trusted, B&W's products are manufactured in a state-of-the-art facility that houses a skilled workforce of craftsmen and the most technologically advanced equipment available.  B&W has become an industry leader that customers seek out for quality and respect for superior customer care.
CURT is a leading manufacturer and marketer of top-quality towing products. The company offers American-made, custom-fit receiver hitches and wiring harnesses for nearly any vehicle on the road. They also market a broad range of trailer hitches, towing systems, and related accessories.
The GPI® brand is Great Plains Industries' core offering of fuel transfer products, meeting and exceeding the needs of large-scale business operations and hobbyists alike. The GPI® product line includes both AC and DC fuel transfer pumps, Diesel Exhaust Fluid (DEF) products, hand pumps, fuel meters and a variety of specialty pumps.
At Strick, their business has been hands-on through two generations that have built and moved the company forward to where they are today. They are dedicated to providing the most up-to-date products available to help make your workday easier.
Alpine Electronics of America, Inc., is the industry-leading manufacturer of high performance mobile electronics, founded in 1978. Alpine is the only manufacturer specializing in mobile multimedia, an integrated system approach incorporating digital entertainment, security and navigation products for your mobile entertainment.
Thanks to the company's strong diversified foundation and innovative, motivated people, Dutton-Lainson Company has spanned three centuries and is now in a stronger position than at any time in its history. The company was founded in 1886 when William M. Dutton and two friends started a small harness and horse collar shop. This soon grew to become one of the largest horse collar manufacturing plants in the nation.
Buyers vertically-integrated manufacturing capabilities include Forging, Stamping, Laser Cutting, CNC Machining, Robotic Welding, Rotational Molding, Powder Coating, Assembly and Retail Oriented Packaging. Buyers key competitive strengths are Pricing, Service & Product Development.
Diesel Performance Equipment
K&N Engineering in Riverside California is the world's leading manufacturer of washable performance air filters and air intake systems. K&N invented the reusable high flow cotton air filter in 1969 and has been perfecting the technology ever since.
Founded in 1997, AIRAID advanced the automotive aftermarket industry with the introduction of its AIRAID Intakes brand of air intake systems.
Since 1999, Edge Products has become the premier name for aftermarket performance electronics. Initially, the company was built on the production of performance electronics for diesel-powered trucks. Over the years, however, Edge has expanded its offerings to include innovative game-changing products for diesel and gas car, truck, and Jeep markets.
Since its founding in 1998, Bully Dog has been known for innovation and creativity among truck owners and enthusiasts. From new vehicle support to switch-on-the-fly power levels, to big rig power and economy tuning, Bully Dog offers unrivaled solutions to truck drivers the world over.
Superchips was acquired by MSD Performance. MSD Performance is comprised of MSD Ignition, Superchips, Edge Products and Racepak. MSD Performance companies are among the most recognized names in automotive performance. Their products are used in everything from NASCAR, NHRA and IHRA drag racing, LORRS off-road racing, World of Outlaw sprint cars, and a host of other motorsports. The combination of talented personnel at Superchips and the resources of MSD Performance ensure that exciting aftermarket products will launch from Superchips for many years to come.
H&S Performance is the world leader in performance tuning Dodge Cummins, Ford Powerstroke, and GM Duramax diesel engines. When you are ready for the best, go with products from H&S Performance.
Hypertech is the technology leader in high-performance engine tuning computer-controlled vehicles. Electronic engine controls have evolved rapidly since their introduction in the early '80s. Hypertech has kept pace with these rapid advances in technology by developing power tuning products that take advantage of the capabilities of these electronic controls.
DEEZ Performance started business in 1997 as an oil warehouse distributor. They deliver high-performance motor oil, lubricants, automotive chemicals, racing fuel, high-performance parts, custom accessories, and racing equipment to our dealers and customers throughout the USA.
CB's - Sales and Service
With its creation of the world's first CB radio over 50 years ago, Cobra Electronics continues to grow by developing a large array of innovative products suitable for professional drivers, driving enthusiasts, outdoor recreational enthusiasts, and recreational boaters.
With over 40 years of experience, Connex provides its customers with unparalleled engineering and technical expertise. Connex is an industrial supplier of high-quality electromechanical components, electrical interconnect, power distribution, automation, labeling, and safety products. We service both OEM and MRO customers over a broad range of industries.
Window tinting and paint protection
Do you want your car to stand out from the crowd? Sure you do. Whether you want your ride to look elegant with clear and invisible window films, or scorching hot– LLumar window tint can help make it happen.