Lincoln ED032589 (E7018 Excalibur 1/8 (10lb.))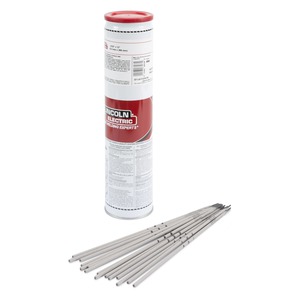 Top Features
Q2 Lot® – certificate showing actual deposit composition and actual mechanical properties available online.
Impact toughness tested to -46°C (-50°F).
Prior to using this material for ASME Boiler and Pressure Vessel Code Section III applications, please contact the Lincoln Electric Specials Department to receive a Certified Material Test Report (CMTR) which meets all requirements of NCA-3860.
Typical Applications
Nuclear power plant construction and maintenance.
Power generation.
Petrochemical.
Pressure vessels.
Pressure piping.
Fill and cap pass welding of up to X65 grade pipe.
Welding Positions
All, except vertical down.
Conformances
AWS A5.1/A5.1M: 2004 E7018 H4R, E7018-1 H4R
ASME SFA-5.1: E7018 H4R, E7018-1 H4R
Additional Information
ASME IX Qualification: QW432 F-No 4, QW442 A-No 1
CONSUMABLE DETAILS